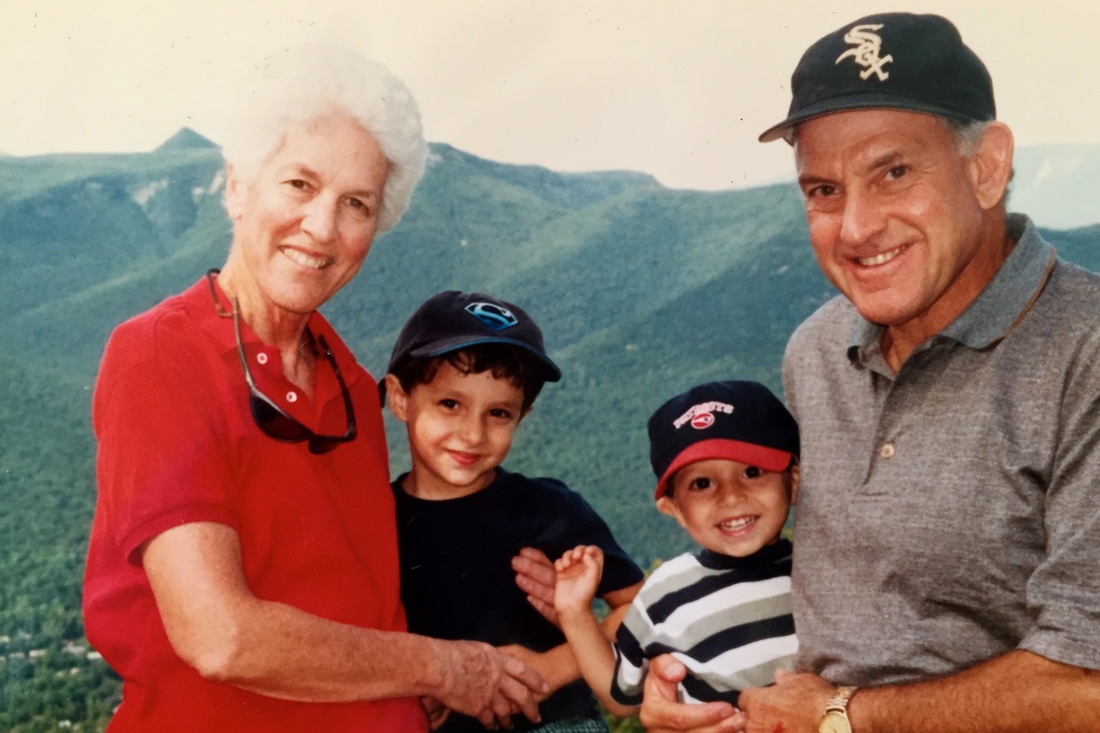 Sue Wachtel Levine
​9/9 1942 - 11/6/2016

Thank you so much to everyone for coming today. Looking out at you, my biggest disappointment is that my mom isn't here to see you all. It would have meant so much to her to have seen all your caring, loving faces here for her. Because, as you all know, the most important thing to my mom was all of us - her family and friends.

My mom had a tremendous capacity to care for other people. Raise your hand if she ever sent you a birthday card or a "get well soon" card or an "I'm thinking of you" card. My brother, Jeff, and I liked to joke about who got the most cards for an event. On one of my & my husband's wedding anniversaries, we received 3 cards – 1 specifically for me for being a special daughter, 1 for Shamez for being a special son-in-law, and 1 for both of us for being a caring couple raising two special boys. My mom spent time carefully choosing all those cards she sent to each of us here today – and calling us constantly to check in – because she truly cared about each of us. She wanted to know what was happening in our lives and how she could help us. My mom truly celebrated everyone's successes – big & small – and wanted to help us through our struggles and heartaches. Those cards were her way of letting us know she was thinking of us. She was so excited when her niece in California, Leah, had a baby boy just a few weeks ago, baby Howie. The thing that was so important to my mom was feeling connected to each of us.

Even though some of us here today lived far away, my mom cared tremendously about what was happening day to day in our lives and wanted us to know she cared about us. Jacob, Zoe, Sam & Troy, she was incredibly proud of each of you & loved you so, so very much. Not only did my mom have a limitless capacity for love and concern, the thing that really astounds me is how she was able to find the time to let us know that she was thinking of us and caring about us. Seriously, I have no idea where she found the time!

Because we all also know how much my mom loved to be out & about, taking advantage of all the wonderful cultural experiences Chicago has to offer: ballet, theater, symphony, museums, the humanities fest, classes, meals with all of you at some new restaurant, Zoe's softball games & horseback riding shows, Jake's hockey games and scholastic bowls, travelling to visit our family & Sandy & Pam in Boston, Elaine in New Jersey, her brother John & cousin Alfie & their families in California, extended family vacations with Gulshan and Amir, and of course, travelling around the world to learn about how other people live.

My mom also loved entertaining people at her house – for meals, holidays, and out of town guests in the spare bedroom that got lots of use. Even when Jeff & I were kids, my mom arranged for foreign exchange students to come for dinner so that we could learn about the larger world and so the students could have a home cooked meal when they were so far away from their own families.

We also know how exercise always held a central place in my mom's life – from her avid swimming, tennis & jogging in her younger days; to her bike rides with my dad, Bruce & Jane; her cherished walks, particularly with Harriet; her beloved NIA class with Linette; and the building exercise class with Brian.

My mother cared tremendously about the people she worked with in her social work practice, literally taking calls 24/7 whenever anyone needed her. She also wanted to make a difference in people's lives through volunteering with Ellen and crew at Lurie's Children's Hospital, with Donna et al. at Poetry Pals, with the Jaskol family at Pioneer Institute, and so many other social service organizations throughout her life.

And, of course, we all know that one of the primary reasons my mom was able to accomplish so much was because of my dad – her rock and support, particularly these last few years during her illness, but truly throughout my parents' marriage. As my dad said to me yesterday, my parents complemented each other well. My dad's steadiness; easy-going, kind & loving nature; intelligence; capability – my mom was so fortunate to have him by her side. And he was fortunate to have her by his side with her zest for life and adventure. We love you so much, Dad.

In closing, I think one story exemplifies my mom's life. As you all probably know, my mom has always loved looking at art and being around art – and as my dad & Sheila Oettinger will attest to, buying art – even if it meant that my dad had to lug humongous pottery jugs home on an airplane from Mexico. However, as much as my mom appreciated art, she never made art, outside of floral arrangements. So, what does my mom decide to do last month, despite her diagnosis & while losing strength & mobility in her hands? Sign up for a drawing class through the Art Institute to learn something new. You can see her charcoal drawings at Jeff's house this afternoon – and they are amazingly nice to look at.

I know we are all awed at my mom's strength – both physical and mental – that enabled her to live every last minute to the fullest, always looking forward to the next challenge, or, as she would have liked to say while thinking about her own father, the next mountain to climb.

Even though I know she's super disappointed not to be here with all of us this afternoon, I also hope & pray that she can feel our love & respect & gratitude for all she did for each one of us while she was alive.
Mom, we know you loved all of us. I hope you know how much we loved and valued you too.

Thank you again everyone for coming. It means so much to my dad, Jeff & our entire family. Before I turn this moment over to my baby brother, Jeff, I have to say how much I appreciate Jeff, Becky, Jacob, Zoe, Rob & Jen for running around taking care of all the arrangements while I sat on a plane from Boston writing down these thoughts of my mom. Jeff & Becky do an amazing job taking care of both sets of our parents on a day to day basis & I appreciate them more than I can say. I love you both very much.