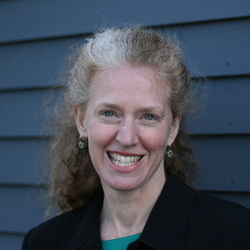 I grew up in a suburb of Chicago, Illinois. In 1988 I graduated
cum laude
from the University of Pennsylvania with a major in English and minors in economics and French. I graduated from UCLA School of Law in 1991 and worked for a large San Francisco law firm, Bronson, Bronson and McKinnon, from 1991 to 1993, when I decided to move to Boston to be near my future husband, Shamez Kanji. From 1993 until our first son was born in 1998, I worked for Angoff, Goldman, Manning, Pyle & Hiatt, one of the oldest union-side labor law firms in Boston. My law practice at Angoff, Goldman consisted primarily of representing individuals in employment discrimination suits. The case that I'm most proud of was convincing a court to order an employer to pay its home health care aides for the time they spent traveling between clients, rather than just for the time at each client's home.
Shamez and I have two wonderful sons, the oldest of whom was diagnosed with autism shortly after his second birthday. We've been lucky that I've been able to stay at home to devote myself to raising our boys. Since our boys started school, I've been an active volunteer in the Westborough Public Schools. I've volunteered in the copy room and the classroom, been a perennial "room mom," and spearheaded various fundraisers and community building activities. I've been active for many years in the Special Education Parents Advisory Council (SEPAC), including organizing the "Wind Beneath Their Wings" ceremony in which we recognize people who have made a difference in the life of a child with special needs. I was the co-President of the Fales Parent Group from 2006-2008 until I was elected to the Westborough School Committee in May 2008. I'm currently serving my sixth year on the School Committee, three of which have been as the Chair of the Committee. I take my duties on School Committee very seriously, devoting a large amount of time to studying the broad array of issues that come before the Committee. Along with my fellow Committee members, I strive to come up with creative and pragmatic solutions that will enable the schools to provide the highest quality of education in the most cost-effective manner possible.
I also enjoy spending time advocating for individuals with autism and about gun safety, having lost three people I loved in two separate shootings. Most recently, I testified in front of the Massachusetts Legislature's Joint Committee on Education about a series of bills designed to provide an alternative assessment to the MCAS for students with special needs and English Language Learners, so that they are able to demonstrate what they truly know in order to earn a high school diploma. For more information about my advocacy work,
click here
.
In my free time, I take ballet at Boston Ballet and enjoy hiking and other outdoor activities with my family.
---